Zodiac RIB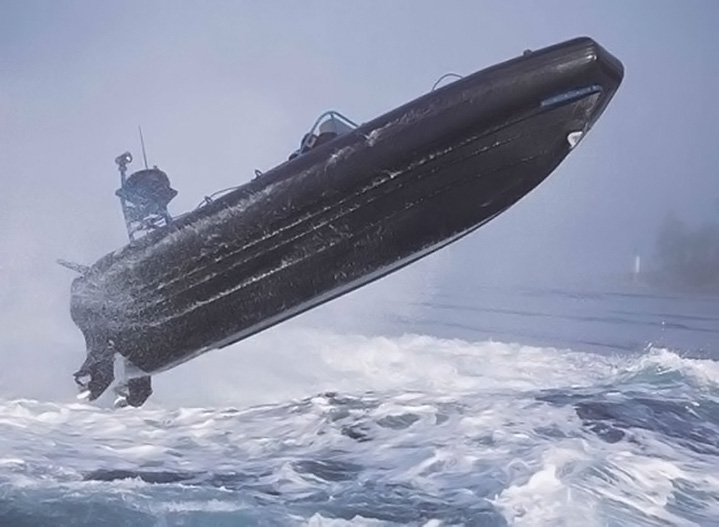 The Zodiac range of rigid inflatable boats has an enviable reputation for their stability, manoeuvrability and economy. Zodiac offer more models than any other RIB manufacturer which means that there's a Zodiac RIB model for everyone, from the compact Zoom to the Medline III, the flagship of the Zodiac range.
The Zodiac FC range have become the definitive special forces boat, used by more elite soldiers and sailors around the world than any other craft. Zodiac offer a diverse range of inflatable craft specifically for military, enforcement and search & rescue applications.
Zodiac's history started way back in 1908 with the formation of the 'French Airship Company'. During the Second World War Pierre Debroutelle worked in secret to develop an inflatable boat using scrap balloon fabric.
After the war, in 1952, Dr. Alain Bombard crossed the Mediterranean from Monaco to Tangiers and the Atlantic from Las Palmas to Barbados in a Zodiac Mark III boat. This remarkable feat served to reassure people that inflatable boats really were sea-worthy and the term 'Zodiac Boat' quickly became synonymous with all inflatable craft.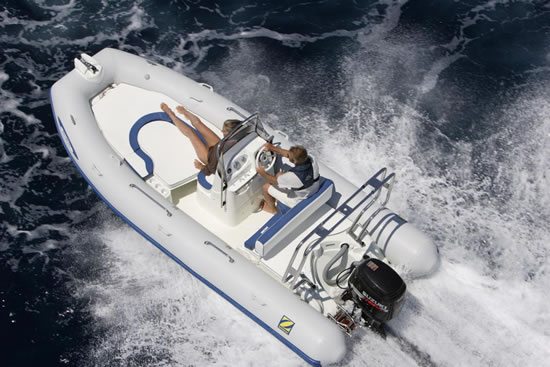 Zodiac RIB technology makes these craft some of the safest, practical boats available today. Their exceptionally low centre of gravity means they are incredibly stable and almost impossible to capsize, under normal conditions.
It is features like these that have enabled Zodiac RIBs to have been successfully used by the military in combat and to have come through these demanding conditions with flying colours.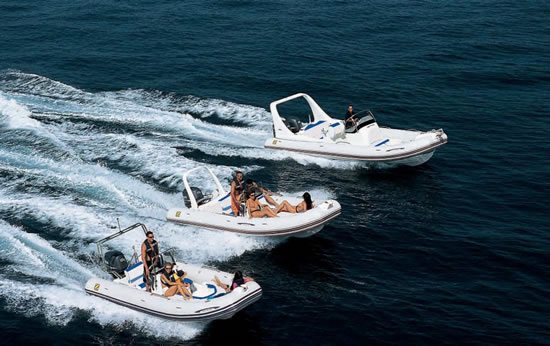 Zodiac RIB design employs a number of unique features. These include Zodiac's exclusive removable tube system that allows the tube to be disassembled and folded for maintenance, repair, storage and transportation. Zodiac RIBs also use an advanced buoyancy fabric call SHARC Duotex. This contributes towards Zodiac's reputation for incredible buoyancy and safety.
Zodiac RIBs are also exceptionally lightweight and compact. This means that they can achieve exceptional speeds making them perfect for water sports enthusiasts.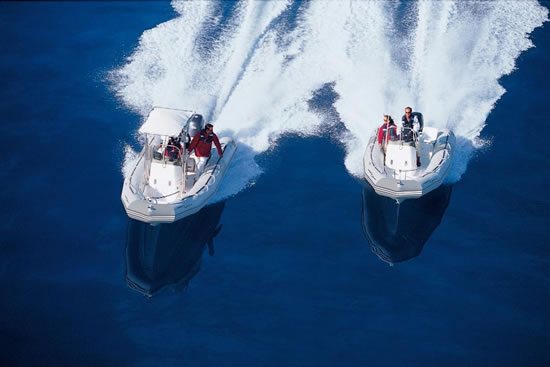 Most Zodiac RIBs use either one or two outboard motors. These vary in size, depending upon the craft. Smaller boats might be fitted with a compact 3 or 4 horse power short shaft motor whereas the more powerful boats can use engines up to around 250hp.
The Projet uses an inboard engine with a maximum of 104 horse power giving these sporty craft a top speed of around 45mph (70Km/h).
The flagship Medline III uses an outboard engine with a maximum size of 250hp. These beautiful boats will also accept a pair of 150hp outboards for extra power and speed.
The Zodiac RIB range starts with the Zoom, a reliable small tender with an exceptional load capacity. These RIBs are incredibly easy to handle and come with an inflatable keel that improves ride comfort and contributes toward the craft's excellent performance and handling.
The Zodiac Projet comes with a turbocharged 4-stroke engine making these low-slung RIBs both fast and great fun. The Projet is reputed for its ability to plane easily, even with several passengers on board, making it ideal for waterskiing. Equipped with masses of storage space, a retractable bathing ladder, swimming platform, water-skiing tow ring and a high capacity fuel tank these beautifully designed craft are the ideal leisure RIB or yacht tender.
The Zodiac Medline III is described as the flagship of the extensive Zodiac range. These beautiful boats have been carefully designed and built for comfort with a bolstered pilot seat, rear double seats and a cockpit that converts into a sundeck. They even come with an integrated cooker, sink with running water and collapsible table, making them ideal for cove-hopping and picnics. They are great for longer cruises as they are fitted with two high capacity fuel tanks carrying.
The extensive Zodiac range is not limited to these three models. Other models include:
The Zodiac Pro: an excellent general purpose RIB, robust and practical.
The Zodiac Zoom SR: an exceptional yacht tender providing performance and comfort.
The Yachtline RIB: a very light, safe and compact RIB that comes with integrated lifting points.
The CZ7 (Civilian Zodiac 7 metre): which is the consumer version of the famous military Zodiac Hurricane. The 7 metre hull is the same as that used by the Navy Seals and the U.S. Coastguard.
Here are a few videos of Zodiac RIBs in action. Give us a call at JBT marine if you would like to experience the exhileration of an exciting RIB test drive: