Revenger RIB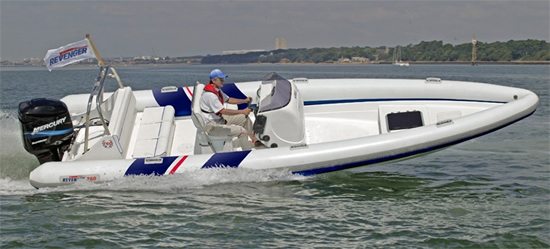 With its racing pedigree, the luxury, high-speed Revenger is one the world's leading rigid inflatable boats (RIBs). A superb, top-end performance RIB – the Porsche of the sea – the sleek Revenger is built to thrill.
The Revenger boat company began life as a speedboat manufacturer before entering the RIB market in 1994 with the launch of the Don Shead-designed Revenger 27, a rigid inflatable boat which featured a modified speedboat sports cruiser hull. Revenger RIBs continue to be designed and built at Eastlands Boatyard in Hamble, Southampton Revenger rigid inflatable boats have an illustrious track record in the water. Revenger RIBs race successfully at RIB formula one and formula two levels and have held a host of RIB world and national speed records, including the world RIB formula one speed record, the world's fastest lap around Great Britain and the world's fastest lap around the Isle of Wight.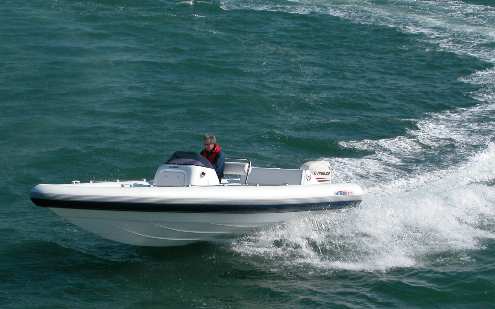 As the Revenger company's speedboat origins suggest, Revenger RIBs are purpose-built for speed. These RIBs can handle high speeds extremely well in a range of conditions and have formidable rough water handling capabilities.
Aside from their competitive use, Revenger RIBs are popular family leisure boats and are renowned for their superior finish. Revenger RIBs can be used to enjoy adrenaline-pumping watersports such as wakeboarding and waterskiing. Revenger RIBs are also used commercially, as multi-seated, high-speed short-ride pleasure boats and dive boats.
Revenger RIBs keep their value very well and there is a strong second-hand market for these boats, in particular the smaller ones, a status which is testament to their durability and high build quality as well as their quick-as-lightning reputation.
Revenger rigid inflatable boats are powered by both outboard and inboard engines. There is one type of inboard engine and two types of outboard engine: open transom and outboard well.
Revengers are generally fixed with high-performance Mercury engines, reflecting the pedigree of the RIB brand. In terms of power, Revenger RIBs are fitted with engines of no less than 150hp.
Larger diesel-powered Revengers are usually powered by Yamaha and Yanmar engines, while smaller models can be used with a host of other engines, including Evinrude E-Tec, Suzuki, Honda, Tohatsu and Optimax.
World class Evinrude E-Tec engines are manufactured by the innovative design company BRP Group, which also produces top-end Ski-Doo snowmobiles and Sea-Doo jet skis.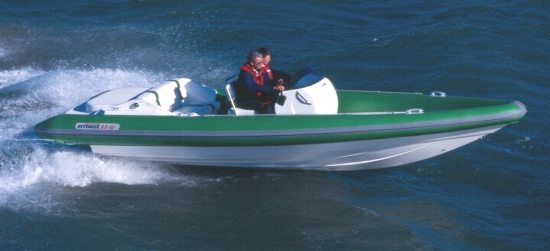 The Revenger rigid inflatable boat portfolio ranges from the Revenger 23 (23ft) to the Revenger 34 (34ft), in both the inboard and outboard engine series.
Revenger also has a number of Metric boats, comprising the Revenger 715 and Revenger 760. These budget-level boats were introduced to widen accessibility to rigid inflatable boats and have proved very popular, holding their value well in the second hand market.
As for new models, the Revenger 31 was introduced in 2006 as the new flagship model for the Revenger RIB range. The Revenger 31 rigid inflatable boat boasts a host of new design features such as a deep self-draining cockpit, bow rider seating, toilet compartment in the console, double helm seat and bathing platform, as well as many storage areas.
Revenger is currently developing its next major rigid inflatable boat, the Revenger 32, which is scheduled to appear throughout 2008 and 2009 in various inboard and outboard versions.
Revenger RIBs are luxury boats and are built to a high standard. Each Revenger rigid inflatable boat that comes out of Eastlands Boatyard is made by hand and individual boats can be custom built to specific requirements.
Low profile Revenger rigid inflatable boats have a distinctive design: their pointed, arrow-shaped look is unique and is complemented by tapered tubes, which underlines their racing profile.
Revenger RIBs are built using intricate multi-part mouldings, which help to improve the performance and add to the superior finish. Most Revengers also come with self-draining decks.
The high quality of the Revenger rigid inflatable boats enables the manufacturer to offer a good guarantee. Each Revenger RIB has a one-year guarantee as well as a five-year warranty for the tube material.