Ribtec RIB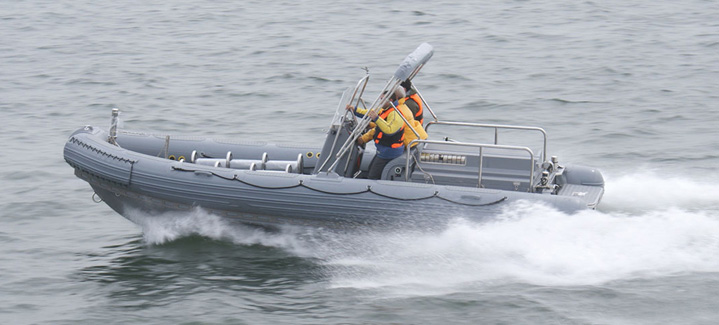 Ribtec is a traditional UK rigid inflatable boat brand, with a reputation for being rugged and professional – the Land Rover of the sea. There is also some dazzle to go with the durability, with the luxurious leisure Ribtec RIB models popular as superyacht tenders.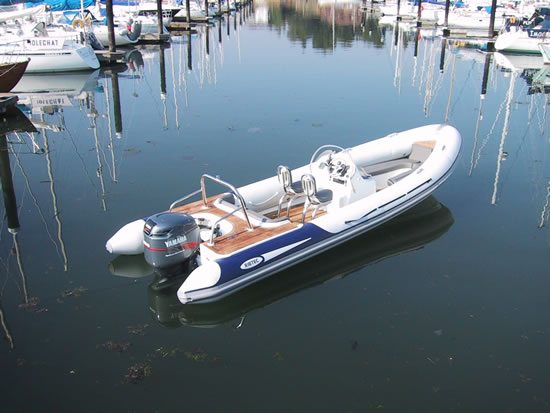 Ribtec was launched in 1989 by Tim Wilks, whose great uncle Maurice Wilks designed the first Land Rover in 1947 as well as the early rescue RIB model Watercraft, on which the initial Ribtec rigid inflatable boats were based. Starting on a very small scale at a boatyard in Swanwick, Southampton, Wilks gradually expanded the business, commissioning a new hull from expert boat designer Alistair Cameron which formed the backbone of Ribtec range over the next decade.
At its height under Wilks, between 50 and 80 Ribtec RIBs were manufactured each year, including a major order for the world-renowned Camel Trophy event in 2000. A total of 60 custom-built 135hp Ribtec 655 rigid inflatable boats were produced for the one-off RIB race from Tonga to Samoa. Many of the hi-tech Camel Trophy Ribtec RIBs have found their way onto the UK second-hand rigid inflatable boat market.
Ribtec was taken over by Charles Chivers, owner of the Ribeye RIBs, in 2001. Under new ownership, the Ribtec brand has been further developed in the leisure and commercial rigid inflatable boat sectors.
The Ribtec RIB range was originally conceived as a boat to bring rigid inflatable boats, which were at the time heavily commercially focused, to a wider leisure-orientated audience. Ribtec RIBs have kept this mixture of commercial and leisure use, with the boats widely used in both sectors.
Ribtec have a reputation for durability, stability and comfort, and boast excellent rough water handling capabilities. As result, Ribtec RIBs are popular with coastguards, rescue services, harbourmasters and dive clubs as well as with the Royal Yacht Association. They are also used by the Metropolitan Police in London and the UK Environment Agency.
In the leisure sector, Ribtec rigid inflatable boats are used as superyacht tenders as well as support craft from other sailing boats, and are used to enjoy swimming and watersports such as wakeboarding and waterskiing.
Initially, Ribtec rigid inflatable boats were heavily customised and some unique second-hand models can be seen on the water, but models have become more standardised over time.
Newer Ribtec RIBs feature a deep V-shaped performance hull, the design of which helps give the boats strong sea-keeping ability and makes them a dry ride. The Ribtec Riviera leisure RIBs have a very stylish finish, with high-spec features such as hand-laid teak decking, polished metal work and luxury sun beds.
New Ribtec rigid inflatable boats come with a two-year guarantee on the hull and workmanship and a five-year guarantee on the Hypalon tubing.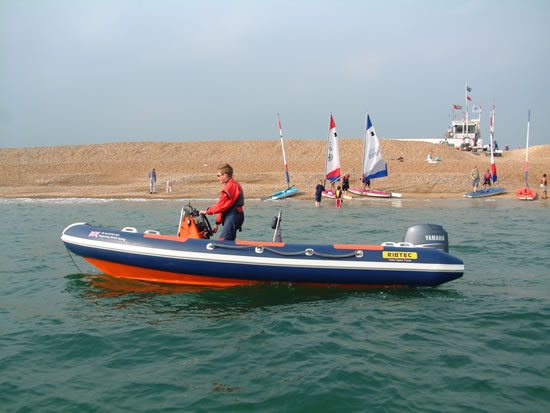 The Ribtec rigid inflatable boat portfolio comprises the Ribtec Classic series and the Ribtec Riviera series. The Ribtec Classic series consists of functional RIBs which are used for a mixture of commercial and leisure purposes, while Ribtec Riviera RIBs are luxury leisure boats.
Outboard engine-powered models in the Ribtec Classic series, which range from 4.5m to 7.4m, include the Ribtec 455, Ribtec 535, Ribtec 555, Ribtec 585, Ribtec 655, Ribtec 655 SX, Ribtec 740 and Ribtec 740 SX. A Ribtec 655 Production Inboard Diesel boat is also available.
The Ribtec Riviera series was relaunched at the 2008 London Boat Show and the boats range in size from 5m to over 8m. Models include the Ribtec 500, Ribtec 580, Ribtec 620 SX and the Ribtec 840.
There are also a number of Ribtec Cabin RIBs on the market, ranging in size from 9m to 12m. The newest Ribtec Cabin range was launched in 2005, with boat sizes from 9.2m to 11m and powered by engines up to a very muscular 635hp.
The majority of Ribtec RIBs are powered by outboard engines but there are inboard models on the market, including the Ribtec 655 Production Inboard Diesel.
New Ribtec RIBs are exclusively fitted with Yamaha engines and this type of engine is very common on second-hand boats. However, Ribtec RIBs can also be found with Yanmar and Merlin models, while some Ribtec Cabin rigid inflatable boats are fitted with Mercury Verado engines.
Take a look at these craft in the exciting RibTec Treasure Hunt…