Ribcraft RIB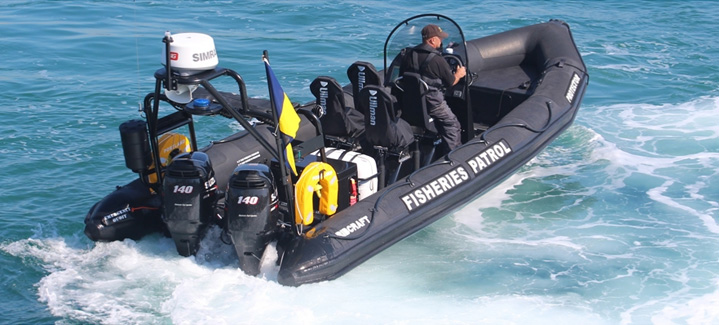 Ribcraft is a well-respected UK rigid inflatable brand. Renowned for their functionality, brawn and quality finish, Ribcraft RIBs are the Ford Transit of the sea: robust, durable and good fun
The first Ribcraft rigid inflatable boat was launched in 1989 and was designed by expert boat builder George Marvin, who was responsible for the pioneering Avon RIB.
Ribcraft RIBs are built in Yeovil, Somerset and between 150 and 180 new boats are manufactured each year, with thousands now on the water. The Ribcraft company is planning to increase production to more than 200 RIBs per year over the next few years.
Ribcraft RIBs are also built in the USA: in Marblehead, Massachusetts. Although these boats are generally destined for North and South American waters, imported models occasionally appear on the UK second-hand market.
Ribcraft RIBs, with their reputation for excellent rough water handling and offshore cruising capabilities, have a strong commercial and military pedigree.
Ribcraft rigid inflatable boats are used by the UK military, the Israeli armed forces, Greenpeace, the Metropolitan Police and the RNLI as well as being popular with dive clubs, powerboat schools, harbour masters and charter companies (including Solent RIB charter.
Furthermore, Ribcraft RIBs are used by the organisers of the London Boat Show and the Southampton Boat Show. The safety boat fleet at both events in 2007 comprised four Ribcraft 4.8s and one Ribcraft 5.85, all powered by Suzuki outboard engines.
Ribcraft RIBs also have a strong relationship with the Royal Yacht Association (RYA). Ribcraft is one of the sponsors of the Honda RYA Youth RIB Championship, an annual competition giving 8-16 year olds the chance to demonstrate their RIB skills. The top prize is a Ribcraft RIB, provided free by the manufacturer.
In addition to commercial and military use, Ribcrafts are very popular as family leisure boats. The smaller models are often purchased as entry-level RIBs as they are easily towed and fit into reasonably sized garages. In addition, Ribcraft RIBs can be used to enjoy watersports such as wakeboarding and waterskiing.
Designed for UK waters, good sea-keeping is a main characteristic of Ribcraft RIBs and the straightforward boats are renowned for their durability and quality of finish. New Ribcraft ridged inflatable boats come with a five-year guarantee.
All models feature a deep V-shaped hull and outer gunwale chines, both of which help the boats handle rough waters well at speed, while at the same time providing a dry ride. The key difference between commercial and leisure Ribcraft RIBs is in the tube finish and console and outfitting options available for the latter type of boat.
The Ribcraft rigid inflatable boat portfolio comprises two ranges: Ribcraft Pro and Ribcraft Sport. Ribcraft Pro RIBs are custom-built boats (for commercial or leisure purposes), while Ribcraft Sport RIBs are one-design leisure boats.
Ribcraft builds a large number of rigid inflatable boats, ranging from the Ribcraft 4.2 (4.2m) to the Ribcraft 12.0 (12m), including Cabin RIBs, in the Ribcraft Pro series and from the Ribcraft 650 to the Ribcraft 850 in the Ribcraft Sport series.
All of the Ribcraft RIBs are MCA (Maritime and Coastguard Agency) approved – a mandatory qualification for commercial use – meaning that they have passed buoyancy, stability and approved build tests.
A new Ribcraft 6.4 RIB was launched in August 2007, designed for offshore cruising as both a family leisure boat and as a commercial vessel. The Ribcraft Sport 750 and Ribcraft Sport 850 are also relatively new models. Both these RIBs are family leisure boats which are well suited to offshore use.
Ribcraft rigid inflatable boats are powered by both outboard and inboard engines, ranging from 25hp to a staggering 900hp.
Ribcrafts are not designed for use with any particular engine, however Suzuki, Yamaha and Honda are all popular choices, while inboard models often feature Yanmar engines. Ribcraft RIBs can also be used with other engines, such as Evinrude E-Tec, Mercury and Mariner.
There is some exciting footage of RibCraft RIBs in action on YouTube. Here are just a couple: