Avon RIB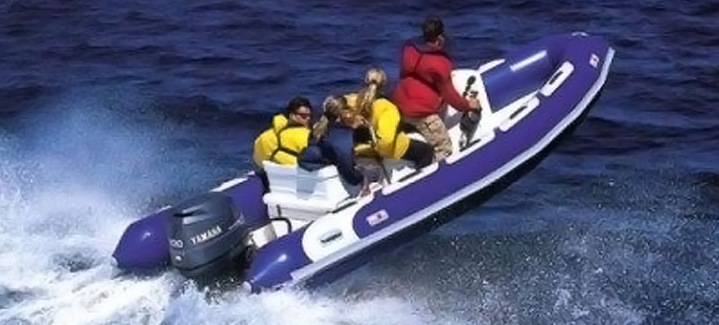 Avon is widely regarded as one of the worlds leading manufacturers of Rigid Inflatable Boats. Designed and built to the highest standards in Dafen, South Wales, Avon RIBs have a reputation for stability, safety, resilience and seaworthiness. It's, therefore, no surprise that they are the first choice of many of the world's safety agencies and armed forces including the British RNLI, the United States Coast Guard, NATO, Greenpeace and the Royal Navy.
Avon is renowned for its Searider and Seasport models.
Avon have been in the inflatables business since 1959 during which time they have produced over 200,000 inflatable craft. Avon RIBs are known to be virtually indestructible. This is due to the outstanding design and build quality wherein much attention is paid to even the smallest of details. Organisations that require boats with high levels of reliability, performance and safety all choose Avon.
The high quality of Avon inflatable craft is supported by their use of the best available materials. These include the Hypalon fabric which renowned for its strength and resilience. Hypalon is virtually unaffected by variations in the weather, heat, cold, humidity, normal abrasion, fuel, oil or sunlight. Avon are so confident in the quality of the material that they offer a full 10 year, no quibble fabric guarantee and a 5 year seam warranty. In fact all new Avon craft are supplied with a full 10 year guarantee.
Avon inflatables are also immensely easy to setup and use taking only minutes to be assembled, inflated and launched. They are designed with up to 6 independent air chambers for buoyancy security and safety. Large diameter tubing is used which, combined with wide beams and low centres of gravity, makes Avon craft extremely safe.
Avon manufacture an extensive range of inflatable craft from small, fast dinghies to high capacity RIBs capable of supporting heavy loads. Avon RIBs are highly versatile making them suitable for both family fun and high speed boat performance.
In 1997 Avon released the Seasport Jet Drive Rib. This was the foundation for their current range of fuel injected, high performance 104 hp (750cc) Jet Drive Engines. Many RIBs from the Avon range are only fitted with either jet drive or stern drive engines as an option thus allowing owners to choose their own power systems.
A popular choice is the Yamaha 100 hp 4-stroke outboard. This fuel-injected unit is in the middle of the Yamaha range all of which deliver exceptional fuel efficiency and performance. They are highly reliable engines providing quick cold weather starts and a smooth comfortable ride.
Having a reliable outboard motor fitted to your RIB is of prime importance. Becoming stranded at sea with no power is a nightmare that seafarers would like to avoid. To this end the Yamaha 4-stroke is fitted with a failsafe system which, in the event that any of the engine sensors should fail, will keep the engine running to get you back to port safely.
Alternatively you might choose an Evinrude ETEC outboard engine for your Avon Rigid Inflatable Boat. It was Ole Evinrude who invented the first outboard engine in 1907. Today's Evinrude outboard engines will propel you through the water at speeds a little faster than the 1907 versions with top speeds of around 150mph, compared with 5mph in 1907.
The Evinrude ETEC engines are reputed to be the most advanced 2-stroke outboard motors in the world. They are very economical to run, offer excellent performance, low noise levels and the lowest combined gas output levels of any outboard motor.
Additional Outboard Engine Manufacturers To Consider Include: Johnson, Mercury, Mariner, Suzuki, Tohatsu and Optimax.
Here are a few videos of Avon RIBs in action. Give us a call at JBT marine if you would like to experience the exhileration of an exciting RIB test drive: