Humber RIB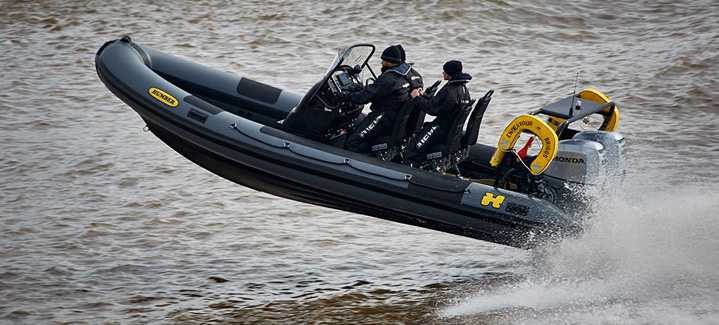 Humber is the UK's largest volume producer of rigid inflatable boats. With a commercial and military pedigree, the Humber RIB is acclaimed for being a utilitarian, reliable and affordable boat brand – the Vauxhall Astra of the sea.
The first Humber rigid inflatable boat was conceived in the early 1960s by Frank Roffee. A caravan maker by trade and a keen diver, Roffee had the idea of making an inflatable boat for his dive club. His new invention was an instant hit with the diving community and soon the inaugural Humber Attaque RIB was launched.
By the mid 1990s, Humber had become one of the most prolific RIB manufacturers in the UK and it is still going strong today. Over 11,000 rigid inflatable boats have been built since Roffee's first model. Humber remains a family-run business with Roffee's son Andrew now in charge of the company, which is based in Hull, Yorkshire.
With the company's roots in dive boats, Humber rigid inflatable boats have traditionally been heavily commercially and military focused. The muscular boats have a reputation for durability and excellent sea-keeping abilities – including excellent stability.
As a result, Humber RIBs are popular with a wide range of commercial and military users, including Shell Oil, Addax Petroleum, HM Revenue & Customs, the Ministry of Defence, the UK Environment Agency and the Falklands Fishery Patrol.
The boats are also widely used by the British Red Cross and the Royal Yacht Association as well as by rescue services, harbour masters, diving schools, sailing clubs and RIB charter agencies.
In the leisure RIB market, although Humber RIBs have not been historically suited to family leisure use, the boats' reputation for providing value for money, in combination with their overall robust build, has established the brand as a favoured entry-level boat.
Humber rigid inflatable boats have been gradually developed for leisure use and this process, to date, has culminated in the launch of the new Humber Extreme RIB series, which comprises more family-orientated, sporty boats.
The design of Humber RIBs have for a long time reflected their no-nonsense, workmanlike and budget-level status. Their appearance has been of a basic, no frills type, a look associated with the traditional, heavy commercially focused early rigid inflatable boats.
However, with the introduction of the Humber Extreme RIB series, the Humber brand has begun to embrace the booming leisure rigid inflatable boat market, where greater attention to comfort and finish is essential. As a result, the design of the Humber Extreme RIB series has much more in common with contemporary leisure RIBs than its older stablemates.
With the exception of the Humber Sea Pro Tender & Coastal RIB series, a key feature of Humber rigid inflatable boats is a deep V-shaped hull, which helps give the boats strong sea-keeping ability, cushioning the impact of the waves and providing users with a dry and comfortable ride.
The Humber rigid inflatable boat range is comprehensive, with the portfolio comprising six main series as well as a conventional Inflatables line.
The Humber Sea Pro Tender & Coastal series comprises rigid inflatable boats of between 3.1m and 4.8m, while the Humber Assault series consists of RIBs of between 4m and 5.9m. Moving up in size, the larger Humber Destroyer series includes rigid inflatable boats of between 5m and 7m.
The next line of RIBs is the Ocean Pro series, which comprises boats in four categories divided according to beam size. Humber Ocean Pro rigid inflatable boats with a 2m beam are available in sizes ranging from 5m to 5.3m, while Humber Ocean Pro 2.28m beam craft range from 5m to 5.5m.
The Humber Ocean Pro 2.34m beam RIB class contains boats measuring from 5.7m to 6.3m, while Humber Ocean Pro 2.6m beam class boats range from 6m to 8m. The entire Ocean Pro series is renowned for its strong rough water handling capabilities.
The Humber Extreme series comprises boats of between 5m and 8m and is a new range of RIBs, whose sporty look and contemporary design has signalled a concerted effort by the manufacturer to expand its presence in the leisure RIB market.
The Humber Offshore RIB series contains boats ranging in size from 7m to 11m in the 2.8m beam class and from 8m to 11m in the 3.3m beam class. These rigid inflatable boats – the 4×4 vehicles of the sea – are heavily orientated towards commercial use and are designed to perform well in offshore water conditions.
Humber rigid inflatable boats are powered by both outboard and inboard engines.
Humber RIBs are not designed for use with any particular engine and the boats are fitted with a wide range of models, including Suzuki, Yamaha (www.yamaha-motor.com), Yanmar, Honda, Mariner, Mercury and Evinrude E-Tec engines.
The Evinrude E-Tec engine brand is owned by the prestige design group BRP Group, which is also a manufacturer of top-end Ski-Doo snowmobiles and Sea-Doo jet skis.
Pay a visit to YouTube and check out Humber RIBs in action. Here are just a couple of examples…