What makes a great RIB for young families?
Whether you're new to boating or an experienced sailor, when you have young children onboard the way you go boating has to change to ensure everyone is safe and happy. Having had children myself and helped many people with young families work out the best boat for their plans I thought it was high time I shared my checklist for what to consider:
Safety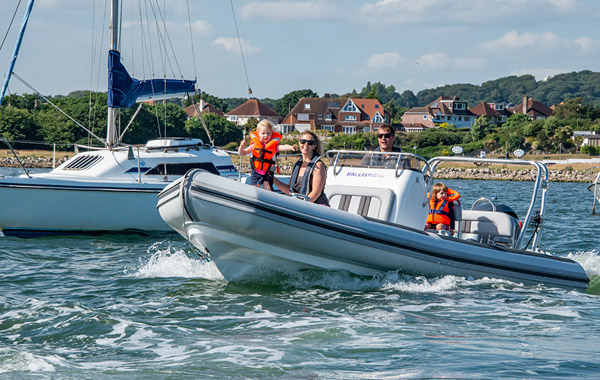 All boating has an element of risk and there are some people who would avoid taking their children anywhere near to the sea, let alone taking them on a RIB boat.
For me, it's all about mitigating risk whilst keeping boating fun. Don't forget to check the weather forecast and get your timings right so you don't get caught out in bad weather or after dark.
I would also recommend you put in place the following:
A good quality, correctly fitted life jacket is essential for everyone. For children make sure life jackets are foam-based so if they end up in the water the life jacket immediately holds them out of the water. I would also recommend the lifejacket has a harness and grab handle. It might sound over the top, but if you've ever tried to grab a child out of the water even in the flattest water you will understand how much easier it is if there is a grab handle.
Handholds in all the obvious places. The more handholds the better. If the children are old enough to understand show them how to hold on to the boat.
If you have very young children and are moored up in calm water set up a lifeline from a fixed point in the centre of the boat. This way you can clip the children onto the lifeline knowing that they cannot end up in the water.
Young children don't have the upper body strength to hold themselves in position whilst the RIB is going along so make sure that insulate or cover up any prominent corners or stainless steel so you avoid any unnecessary bruises.
A swim ladder. RIBs are popular for swimming because they are low in the water, but if you are supporting a toddler in the water it is a whole lot easier to get back into the boat with a swim ladder in place. It also saves your back when your 5-year-old jumps in the water, but is then struggling to get back in the RIB.
SeaStart Cover. Things do go wrong and if it does you will be grateful you have cover.
We do not recommend tethering anyone into the boat unless it is in the calmest waters. If someone goes over the side it is much safer for them to simply bob about in the water whilst you turn the boat around rather than be dragged along by the boat or even potentially hit by the boat.
Seating Layout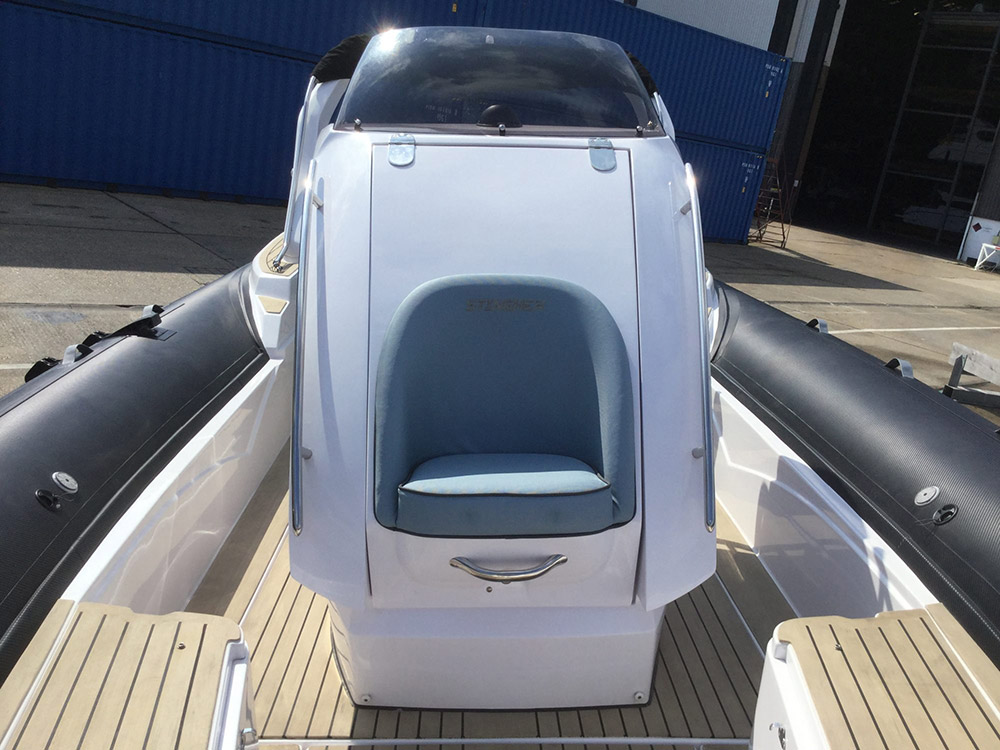 Bench seating at the stern and jockey seating in the middle of the boat seems to work well as it means younger children can sit with an adult at the back where the boat is most stable. Ideally, the bench seat will be scooped so that there is less chance of children sliding across the seat. Letting small children sit in the bow seat unaccompanied is asking for trouble. From the bow seat children can easily be bounced around.
A frustration of having the bench seating at the back is that if you need to speak to the person driving the boat you will need to be able to shout very loudly or have to get up from the bench seat. This is why people with young families often like to have the seating arrangement in front of the helming position.
Boat Design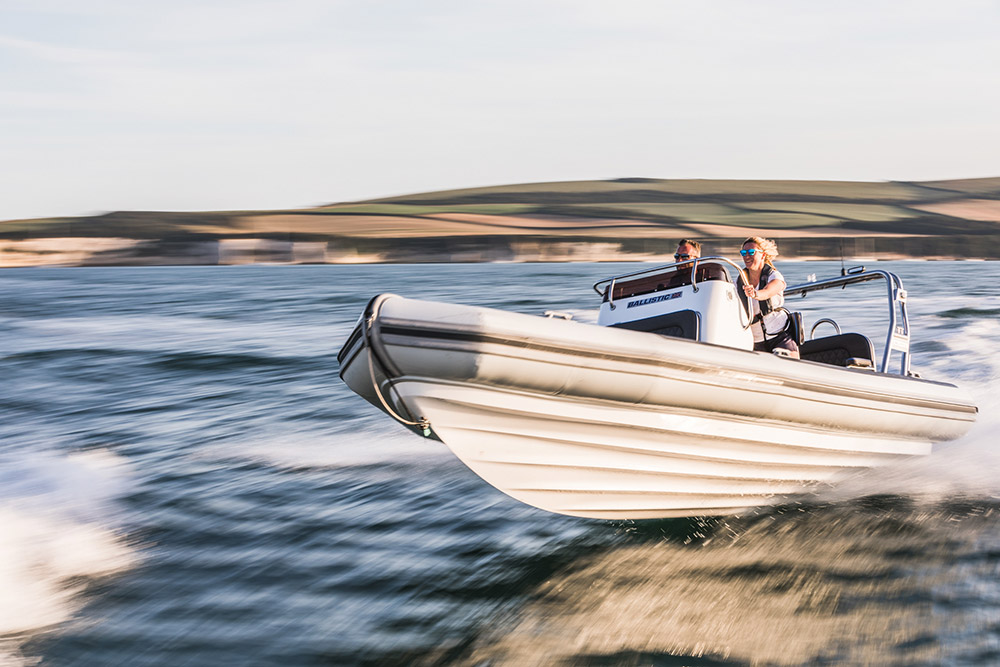 A long, narrow, deep V-shaped hull may well make you competitive in an offshore powerboat race but this is probably not really what you need for a young family. A general-purpose RIB with a wider bow and a flatter hull will provide a softer ride with more efficient planing.
A RIB needs to be able to shed water quickly as they are low in the water. Opt for a RIB that is higher out of the water to avoid less water coming into the boat.
Facilities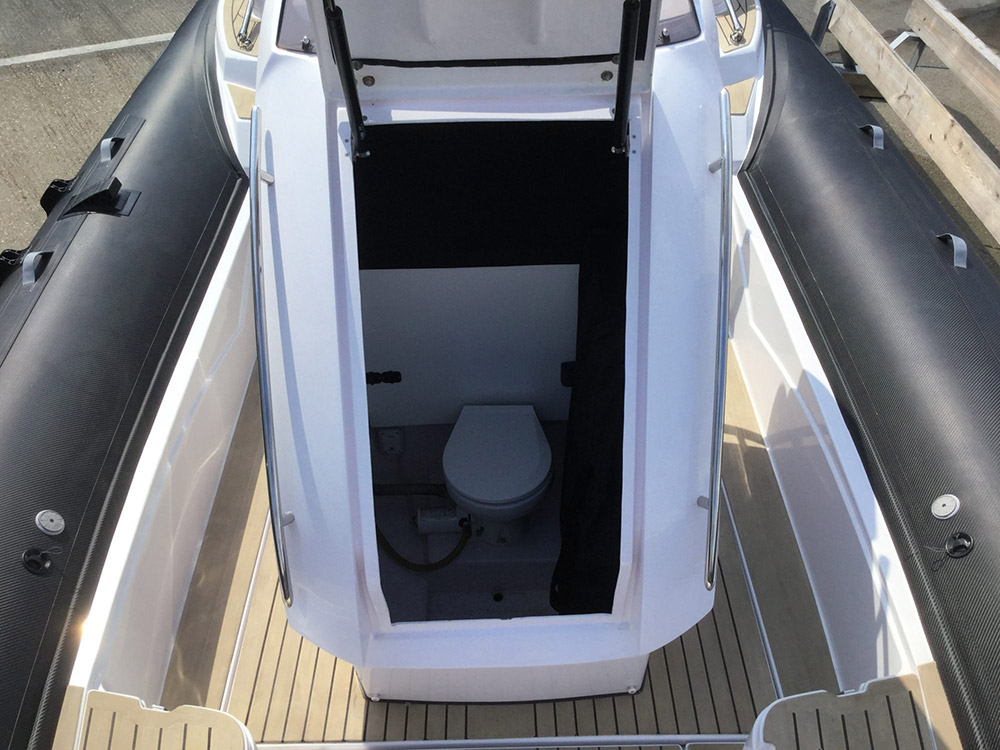 Speak to any parent with young children and even though you may be planning to only do short trips a toilet is a great idea. I shall say no more!
Other essential facilities:
A fridge or a cool box are exceptionally useful
A dry locker. It's not just about keeping the picnic dry, young children get colder more quickly and so it's vital to have some spare, dry changes of clothes.
A sunshade. Perhaps this isn't essential if you're just going out for a couple of hours, but if you're planning anything longer you will need to be able to provide some form of shade – especially if it is roasting.
Other Tips
It's always better to have a short trip with everyone wanting to come back for more.
Give the trip a focus – a special beach, a magical place for a picnic, crabbing, fishing, explore a harbour, the list goes on…
Leave in your car a spare change of clothes, towels, drinks and a few snacks for when you come off the water.
The beauty of a RIB is that busy children are happy children. With a RIB you can go out just for a few hours and still feel like you've done a great activity with your children and had a day out. Short trips with a picnic, a beach and a swim will tick a lot of boxes.
---
We have developed a boat buyers guide please feel free to download it.