What makes a great RIB for watersports?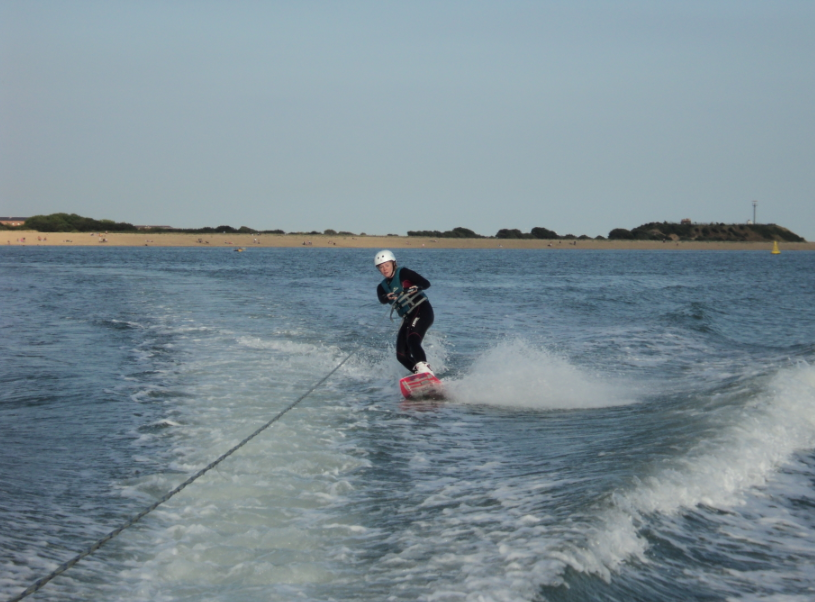 This summer we're all going to be looking at how we can have fun in the UK. Having a RIB is a great way to get out on the water and explore, but with a bit of planning and investment, you can supercharge the excitement levels by introducing some more adventurous watersports. Gone are the days when it was just water skiing, today there is also wakeboarding and various tubes and inflatables designed for sitting on, sitting astride or lying on. The tubes and inflatables make the fun accessible for everyone, from little children to adults.
Choosing the right boat to suit your plans for watersports shouldn't just be about how big you can get the wake or how fast you can ski. Here are some of the questions to ask yourself:
How many people are going to be on the boat? Unless you're only going to be doing short hops then you need to plan for people to be able to stretch out and store belongings.
Are you planning to use the boat for skiing, wakeboarding, snorkeling & scuba diving? Or just one of these activities?
Where are you going to be using your boat? If you're going to be using your boat on a river or lake then you don't need such a large boat because the water will be calm.
Where are you going to keep your boat? You may want a boat you can easily transport home or you may already have plans to store the boat near to the water.
So, onto getting the right boat for your boating activity plans:
Boats for Skiing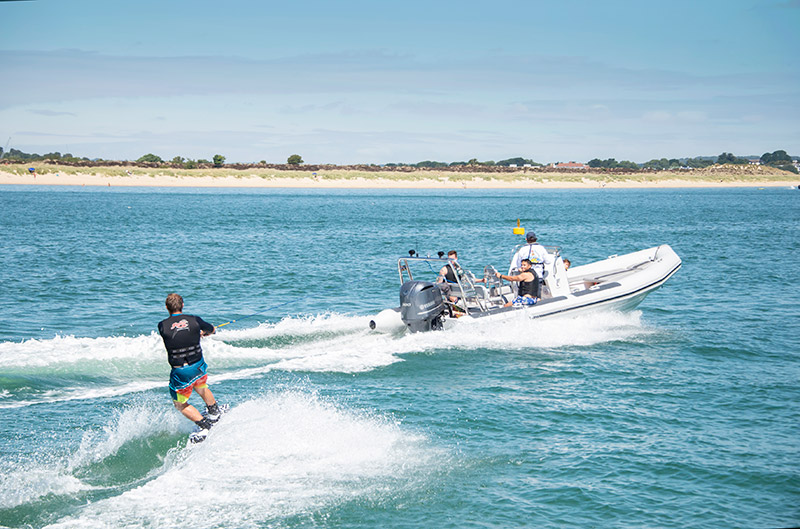 For skiing, you will want a boat that can accelerate quickly to get the skier up on the skis, stay in a straight line and create the minimum wake. Boats with outboards or inboards are generally great for skiing.
For the gurus (read fanatics/professionals) boats with inboard, direct-drive engines are the preferred choice for two reasons:
Direct-drive engine – because there is no need for gearing, more of the power immediately pushes against the water providing better acceleration
Propellor position – The propellor is underneath the hull of the boat which means the boat can plane faster, and by the propellor being closer to the centre of the boat, it is easier to maintain a straight course.
BUT (at a guess) 90% of skiers use outboards for skiing and, in fact, RIBs especially due to their adaptability for other things (wakeboarding for example!) outboards are cheaper and easier to manage for the normal man on the street. Great boats for skiing also have a wide surface area touching the water which makes it easier to get up on the plane quickly whilst keeping the amount of wake to the minimum.
Boats for Wakeboarding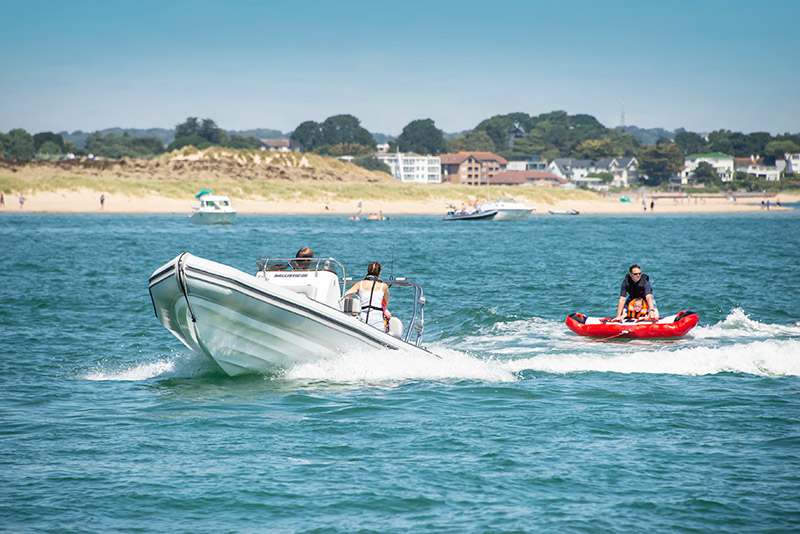 For wakeboarding, it helps if the boat can create water launch-pads to help get the wakeboard up into the air.
Ideally, the boat will be a v-drive layout, because having the engine weight towards the aft of the boat means a larger wake. Wakeboarders also benefit from having a high tow point. The tower or rack enables the wakeboarder to be pulled up onto the water easier and quicker. If you're new to wakeboarding the tow or A-Frame makes it easier to hold on and if you're more experienced it gives you more of a chance to get up in the air. Please make sure that if your boat has an A-Frame it can manage the stresses – a lot of manufacturers just have a basic frame.
For those people who are serious about their wakeboarding, you may want to look at a boat where you can control how much ballast is in the boat. By adding water and therefore weight to ballast tanks you can increase the size of the wake.
Read up on some tips about how to get started with watersports in a great article from Ballistic RIBs.
Boats for Snorkeling and Scuba Diving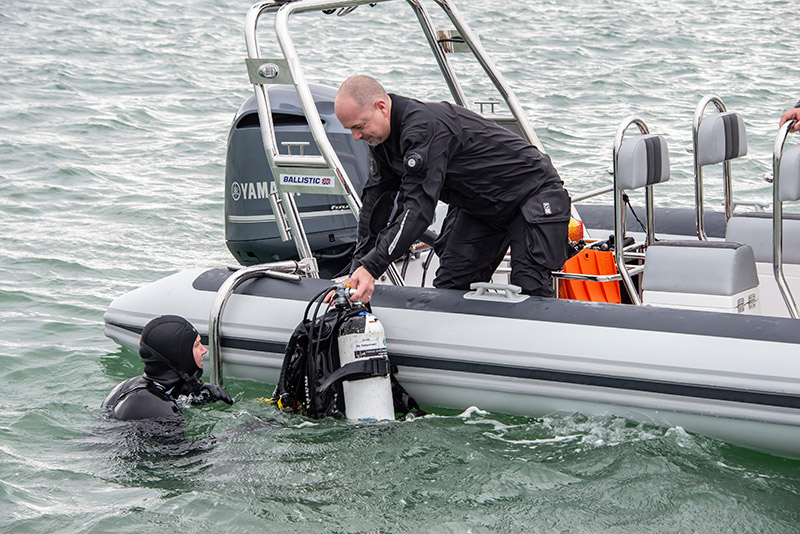 For snorkeling, you simply need a boat that can go into shallow waters and is easy to get into and out of the water. For scuba diving, there are a few more requirements because you need to carry more equipment that is bulky and heavy. You will need some room to store the equipment whilst in transit and space to put the equipment on and off.
RIBs have been heavily used for snorkeling and diving as they provide a "friendlier" way (read soft and low) of getting into and out of the water.
Jetboats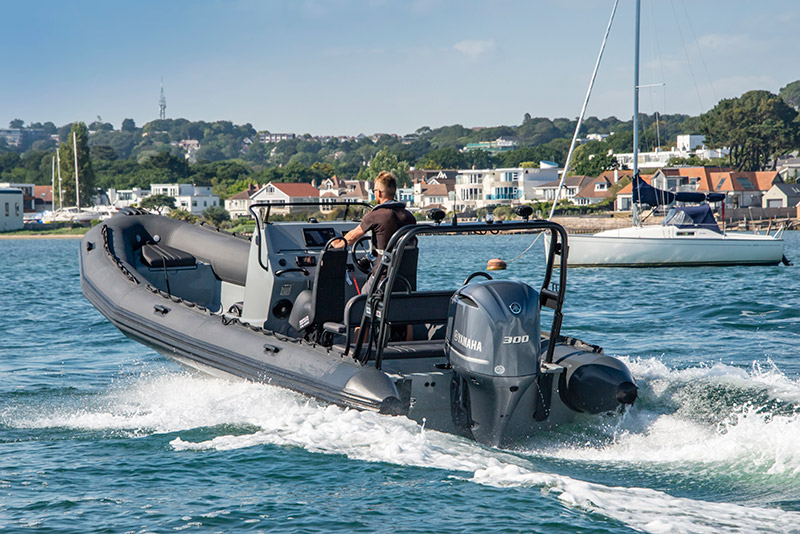 Jetboats are another alternative to traditional outboards and inboards. Jetboats are driven through the water by a jet of water ejected from the back of the boat. Jetboats sit high on the water, which means they plane very easily and don't produce much wake, but they are also highly maneuverable and can be quickly brought to a stop.
They offer the advantage of fewer moving parts when there are people in the water around the boat, but they can be difficult to steer in a straight line at very slow speeds. Jetboats are reputed to be great for towing people on inflatables.
Download our buyers guide for more information.
At RIBs For Sale we provide the best selection of new and second-hand quality RIBs in the UK. All our boats are in Portsmouth in one place to view which means you can easily compare boats without driving from place to place. We've been selling RIBs for over 25 years and this specialist knowledge enables us to match you to the right boat.
Contact us for a chat and to arrange a visit. We look forward to seeing you soon at RIBs for Sale in Portsmouth.