Used Mercury 4.2M RIB with Mercury 40HP Outboard Engine and Trailer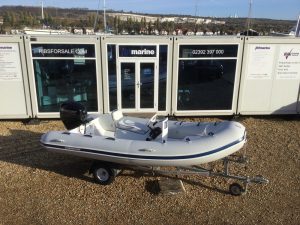 We are pleased to offer for sale this Second Hand Mercury 4.2M RIB, a lovely sized boat from the Mercury Marine brand. This Mercury 4.2M RIB comes fitted with a Mercury 40HP Outboard Engine, allowing you to achieve speeds in excess of 20 knots quietly and smoothly.
The simple seating layout of this RIB gives you comfort whilst optimising the use of your deck space. The double jockey console seat on the boat has plenty of room on either side for easy movement around the deck of your RIB. In the bow of the boat you will find a locker with room for an anchor, as well as a small locker on the console allowing you to keep your possessions safe and dry whilst out boating.
Click to see this Mercury 4.2M RIB for sale on Boats and Outboards