Used Ballistic 3.4M RIB with Evinrude Etec 40HP Outboard Engine and Trailer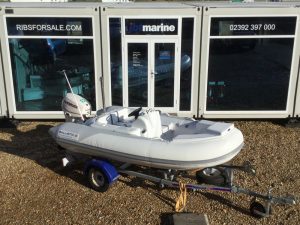 We are pleased to offer for sale this Second Hand Ballistic 3.4M RIB, a well looked after model from the Ballistic range. Even though this is a small craft, the seating arrangement has been well thought out allowing comfortable seating for 4 people. This Ballistic RIB would make an ideal tender or small harbour boat. This Ballistic RIB comes as a complete package with a fully serviced roller trailer.
This Ballistic RIB comes fitted with a Evinrude Etec 40HP outboard engine, with electric start and power trim. As is the case on most RIBs if you can sit on it you can store inside it! As this Ballistic 3.4m offers comfortable seating for 4 it also provides plenty of space for life jackets, fishing rods, sun cream etc.
Click to see this Ballistic 3.4M RIB for sale on Boats and Outboards