Supporting Youth Sailing
Our sister company, Ballistic RIBs 5.5m Club launch and the 4.2m RIB will be supporting the Topper and Optimist youth dinghy classes this summer. On very different waters at different ends of the country.
Both these robust sailing dinghies are fantastic boats for youngsters to learn to sail and race. And, they tow well behind a RIB too.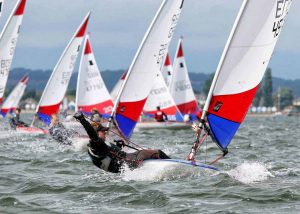 Kicking off with the Topper National Series 6th event and Optimist Open Meeting at Poole Yacht Club, early in July.
The 5.5m will then support hundreds of Optimist sailors, at the UK National Championships, at the Weymouth and Portland National Sailing Academy, 27 July to 3 August. Home of the 2012 Olympic Sailing venue.
Both boats will then get put through their paces at the UK Topper National Championships, at Largs Sailing Club, in Scotland 3-9 August, where around 200 entrants are expected.
Can you help?
With so many boats racing will take place on two race tracks. Both Largs Sailing Club and the International Topper Class Association are seeking volunteers onshore and afloat. So do please contact them if you can help.
Does your Club or Class need a support RIB?
Our Ballistic 5.5m club launch can be available to support specific events and watersports activities. Please get in touch to see if we can help.