RYA VHF Radio Course- SRC Marine Radio (DSC) – 29th March
A VHF Marine Radio is one of the most important pieces of safety equipment on board your boat, it is used to contact Vessels, marinas, harbours and most importantly, the coastguard in an emergency. This course and licence is compulsory to anyone carrying a VHF radio on their boat, whether you're a sailor, fisherman or powerboater this course should be top of the list before you hit the water.
Our RYA VHF Course is a one day shore based course based around the practical use of our modern VHF Radios. After the course you will have the opportunity to apply for the RYA VHF Licence. *An additional charge of £60 is required to the RYA for this licence.
To gain your VHF Radio Licence (Short Range Certificate SRC) you must attend and successfully complete this 1 day classroom course and pass the assessment at the end.
The course syllabus includes:
• Routine Communication
• Safety Situations
• Distress and Urgency Calls
• EPIRBS, PLBs and SARTs
• DSC
• MMSI
• NAVTEX
Duration: Cost £100 * (£60 additional to RYA for license)
1 day (08.30 – 17.00 approx)
Available Dates:
Friday 29th March 2019
Saturday 4th May 2019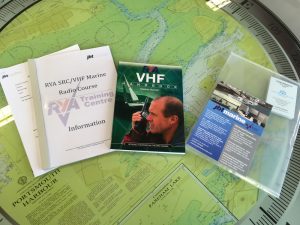 All of our prices include VAT, RYA certificates and Handbooks, a warm training room, fuel and moorings at Trafalgar Wharf.
If you require any further information please feel free to get in touch on 02392 397000