RIB Cruising In The Solent – Part 1
Cowes
For many, Cowes is the epicentre of UK and world sailing and for this reason alone is high on the list of places to visit on a RIB for many owners. Cowes is on the Isle of Wight's northern coast and is the Island's main port with a natural harbour forming at the mouth of the Medina River.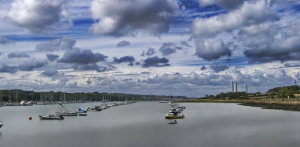 Undoubtedly, for those of a rag and stick disposition, the time to visit Cowes is the first week of August when Cowes Week takes place – for RIBsters (coded and endorsed) it is a chance to earn a few pennies from the yachting fraternity and to witness some world class racing but for most of the week, they yachts just get in the way of your RIB cruising in the Solent!
There are plenty of things to do in Cowes that will pass an afternoon – a bite to eat in the Anchor Inn, a trip to the Sir Max Aitken Museum or slightly out of town, Osborne House. Shopaholics are well catered for, especially those wanting to hemorrhage cash in marine outlets – all the major brands of sailing clothing are well represented in the High Street.
If you'd prefer to head a little further up river you'll be rewarded for your troubles – a few minutes past Cowes and you'll reach Whippingham and the Folly Inn – in good weather, one of the best spots on the Island to grab some mid boating food that is decently priced and hearty – favourites like line caught cod and chips and beer and ale pie are just the job when you've been out on the water in the RIB for a morning.