Ocean Safety RIB Grab Bag
We have put together some packages which are both perfect, if you are new to boating or if you just need to update your current supplies!
The first of our newly listed packages is in our view the most important:
OCEAN SAFTETY RIB GRAB BAG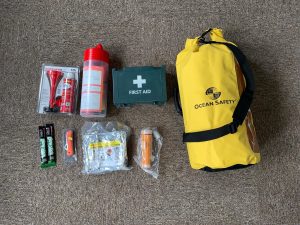 These RIB safety grab bags are an essential for all RIBsters.
The attractive Yellow waterproof grab bag has a roll top which not only allows it to be waterproof to 1m, but also Buoyant by trapping in air through the roll top or side valve.
JBT Marine pack contains:
• 1 x SOLAS no.2 Card
• 2 x IKAROS Red Hand Flare
• 2 x IKAROS Orange Hand Smoke
• 2 x IKAROS Red Parachute Rocket
• 2 x Green Lightstick 12hr
• 1 x Floating Fixed Blade Knife
• 1 x MCA Waterproof Torch c/w Spare Bulb
• 1 x Fog Horn
• 1 x MCA Thermal Protective Aid
Price: £ 174.58 Inc Vat
If you are interested in purchasing a JBT Grab Bag, please call us on:-
02392 397 000 or by email: info@ribsforsale.com